Recipes for the Pantry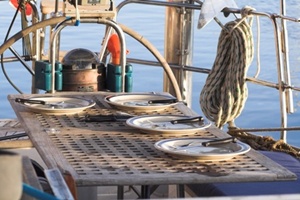 In case your chef on board is looking for some ideas what to serve during your cruise please feel free to try those meals.
North African Lamb Shanks
Spice Mixture: made of 1 ½ tbsp ground cumin, 1 tbsp ground coriander, 1 tsp ground ginger, 1/8 tsp nutmeg, 1/4 tsp cinnamon, 1/8 tsp saffron threats (optional, or replace with ground paprika), ½ tsp ground pepper, ½ tsp salt. 1 tbsp flour
4 lamb shanks
3-4 tbsp. olive oil
4 cloves garlic, finely chopped (ca. 1 tbsp.)
2 medium-sized fresh (or 1 dried), chopped chillies
1 tbsp lemon juice
1-2 cups of water (or vegetable stock, unsalted)
4 small eggplants (or 1 large), peeled
12 oz canned tomatoes (whole) with jucies
6 oz chickpeas, canned (if using dried, soak overnight, and cooked until tender)
1 hand-full fresh, chopped cilantro
Preheat oven to 350 C. Cut eggplants into 1 inch cubes, place in colander and sprinkle with 1 tsp salt. After about 30 minutes, gently squeeze to remove liquid (and with it bitterness and salt). Meanwhile, stir spice mixture together and in a sturdy plastic bag toss with the lamp shanks to coat very well. If spices remain in bag, keep and add to casserole later.
Heat 2 tbsp olive oil in a pan and over medium-high heat brown the shanks on all sides. Remove and keep warm in casserole (with a lid). Add another tbsp of olive oil, reduce heat to medium, and fry drained eggplants, stirring for about 3 miutes; add to casserole. Add another tbsp olive oil to frying pan if required and fry chilli and fresh ginger for 2 minutes; add the garlic and cook for another minute, stirring constantly. Add the lemon juice, tomatoes and water; after bring it to a boil, add to the lamb shanks.
Cover lamb shank casserole with a lid and simmer in the oven at 350 F for 90 minutes. Cook another 30 minutes with the lid off. Skim off fat and add salt and pepper if needed. Just before serving add the fresh cliantro
Serve with smashed potatoes or couscous.
Alaskan Salmon
12 ounces wild Alaskan salmon filet, 1/3 cup grapeseed oil. 1/4 CUP OliVe Oil, 10 whole leaves basil. 1 1/2 teaspoon coriander, 1 teaspoon fresh thyme leaves, 1/2 teaspoon of white pepper, 1/4 teaspoon garlic, peeled and chopped, 2 stalks celery, finely chopped, 2 small carrots, finely chopped, 1/2 teaspoon sea salt, 2 tablespoons ocean trout (or salmon) caviar if available
For the parsley oil: 1/3 cup olive oil, 1/2 cup ltalian parsley leaves, 11/2 teaspoons salt﷓packed capers
For the fennel salad: large bulb fennel, 1 teaspoon fresh lemonjuice, 1/3 teaspoon grated lemon zest, salt and White pepper to taste.
Cut fish into 4 pieces. In a bowl, combine olls, basil, coriander, thyme, pepper and garlic. Marinate salmon in this and refrigerate for 2 hours, turning pieces frequently. Before Cooking, remove salmon from refrigerator, let sit at room temperature for 30 minutes.
Preheat the oven to 175 degrees. Spread out celery and carrots on a baking tray and place fish on top. Bake everything in the oven for 20 minutes, then let the oven door open until fish is lukewarm for about 10 minutes. Remove and let cool to room temperature. For the parsley oll: Combine oil and parsley in a blender and add capers finely chopped. For salad: Slice the fennel, place in a bowl.Add lemon julce and zest. Arrange a mound of salad on 4 plates. Set saimon on salad on each plate.Sprinkle each with sea salt. Drizzle the parsley oil and dot the caviar
around each plate.