Yacht Charter Croatia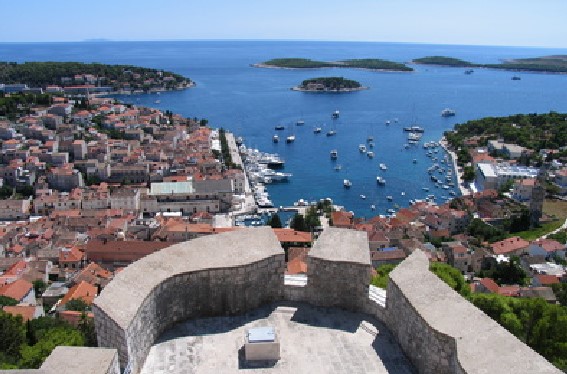 The perfect destination for Yacht Charter holidays is Croatia: Crystal clear waters, countless islands, bays und beaches, Mediterranean vegetation, marinas, fishing harbors and medieval towns – testament to the Venetian influence. The mainland's coastline alone spans over 1.104 miles not to mention the numerous islands and mini islands, encompassing another 2.500 miles of shoreline. These are extremely divers yachting waters with an outstanding maritime infrastructure for Yacht Charter Croatia boasting a huge variety for every Yacht Charter Croatia crew.
Yacht charters in Croatia plays a crucial role in the touristic development of the country. At most of the Yacht Charter Croatia bases you will find many sailing yachts as well as a good choice for those interested in chartering a motor yacht in Croatia or a luxury yacht with crew.
The many Yacht Charter Croatia marinas, which are distributed along the coast, are of a very high standard and belong to the very best of Europe. By now there are 21 marinas, recognizable by the suffix ACI-marinas (run by the Adriatic Croatia International Club), that started organizing water sports in the early 80s, then on a state-controlled basis. Numerous additional marinas perfectly equipped for Yacht Charter Croatia have been privately founded in the past years. Besides those there are a lot of affordable town harbors with plenty of mooring space for Yacht Charter Croatia crews.
For all those who don't know Croatia yet, there is something to be said about the Croatian cuisine. Especially on the coast it has so much more to offer than Ražnjići and Ćevapčići: Delicious dishes of fish, seafood and exquisite pasta as well as the full-bodied Croatian wine await the sailing connoisseur.
Yacht Charter Croatia – Istria – Kvarner Gulf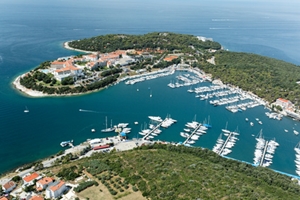 The sailing waters of Croatia consist of Istria in the North, the Kvarner Gulf, the Kornati Archipelago and Dalmatia in the South. Istria, bordering in the North on Slovenia with its nautical border to Italy in the West, is the biggest peninsula in the Adriatic Sea. Yacht Charter Istria bases are in Pula,Rovinj, Medulin or Umag. This Croatian Yacht Charter region, once part of Italy for an extended period of time, has preserved a lot of its Italian flair. Istria is also the starting point for Yacht Charter Istria cruises into the Kvarner Bay. Here you can take over yachts directly at the Yacht Charter Istria bases in Punat or Mali Losinj. The east coast of Istria, the Opatija Riviera, confines the Kvarner Bay to the West.
It is in this region that the first sea resorts started to emerge in the 19th century with splendid architecture, still visible along side the promenades. A trip to Opatja and the Riviera is worth the detour. Yacht Charter Croatia crews on the other hand are mainly interested in the islands. Krk, the largest island with the most sizable marinas, is connected to the mainland via a bridge. In the wide bay of Baska you will find its most beautiful beach. Rab is marvelously green and has a lot to offer for those interested in culture. The island Pag boasts fantastic beaches. The islands Cres and Losinj where some Yacht Charter Croatia fleets are based as well still bear witness to their old seafaring tradition. Whoever manages to hunt up a mooring space in the quaint old harbor of Mali Losinj, can still get a sense of its history. The landscape on most of the islands is scanty and rocky but there is a prevailing scent of herbs and flowering shrubs. If you also take a detour to the island of Ilovic you can wander among the lavish gardens of this island of flowers. Its town harbor may be small but Yacht Charter Croatia crews can be sure to find a safe spot for mooring on the buoys between Ilovic and Sveti Petar.
Yacht charters Croatia – Northern Dalmatia – Kornati archipelago
The Kornati Archipelago in the northern part of Dalmatia is the destination for numerous Yacht Charter Croatia tourists, who favor the Yacht Charter Kornati bases in Zadar, Biograd, Murter, Sukosan, Sibenik, in Primosten in the Marina Kremik – to take over their yachts sailing yachts in Kornati archipelago – or sail directly from Split towards Northeast. Ideal for beginners among the yacht charter Croatia skippers and crews is the middle part of the coast between Zadar and Split. Due to the innumerable offshore islands with their many anchor bays you will experience hardly any sea state. These waters are very suitable for children as well. However in the northern part, the islands are bigger therefore your sailing stages tend to be longer. Restaurants, especially the typical Konobas are easily found and particularly plentiful in the Kornati archipelago.
The Archipelago with over 100 islands is a protected national park. They feature solitary bays, small harbors, many Konobas with their own landing platforms for Yacht Charter Croatia crews, especially on Kornat, some new marinas like the ones on Zut and Piskera and bountiful nature. They are also famous for their outlandish coastal landscapes with many grottos, caves, coves and bizarre rock formations.


Yacht charters Croatia – Middle Dalmatia
The biggest Yacht Charter Dalmatia bases and marinas of Middle Dalmatia are located in and near Split. There is the one Yacht Charter Croatia Marina in Trogir, at only 3.1 miles from Split airport, the big yacht charter base Marina Kastela near Split airport, Rogac on Solta Island, the state of the art private Yacht Charter Croatia marina Rogoznica, the Yacht Charter Croatia Marina Agana, as well as the marina in Vinisce. There shouldn't be any Yacht Charter Croatia crew at a loss to find a suitable charter yacht.
A lot of Yacht Charter Croatia crews aboard of sailing yachts or motorboats are drawn to the islands of Dalmatia, especially to Vis, Lastovo, Hvar and Brac. The island of Vis, which is still often called by its Italian name Lissa and the island of Bisevo are situated the furthest off the main land. It's about 10 sea miles towards West from Hvar. Only since 1989 is this island, that used to be a military base, accessible for Yacht Charter Croatia tourism. The inhabitants still make their living mainly on fishing and the cultivation of wines. That should come in handy in the pantry. Yacht Charter Croatia crews can get open wine from the barrel practically everywhere for a good price. Destinations for excursions, e.g. with a rental bike are the mountain Hum and the Tito-cave close to Komiza. It is so called since Tito organized his resistance against the German armed forces from this cave in 1944. Also worth a visit for Yacht Charter Croatia crews: the blue grotto on the island of Bisevo – its possible to anchor close by and enter the grotto with the dinghy.
There are some mooring spaces for Yacht Charter Dalmatia crews with mooring lines, water and electricity but no sanitation in the town harbor of Vis. The fish market is only a few feet away. There is another pier with water and electricity in the district Kut. Another beautiful well-equipped town harbor is located in Komiza. A fortified tower now houses the fishing museum. The history of the islands of Vis and Hvar dates back to a time when Greek seafarers still used to live here.
There is an Ionic settlement, called Starigrad (in former times Pharos) on the island of Hvar. Nowadays the island boasts mooring spaces along side the quay walls, plenty of restaurants and tons of romantic charm and attracts a lot of Yacht Charter Croatia crews. The town harbour of Hvar with its beautiful promenade and enchanting lanes is very popular for Yacht Charter Croatia crews and always too small. It is a great starting point for shopping and an evening out but doesn't offer enough mooring spaces for Yacht Charter Croatia crews. Yacht Charter Croatia captains can avoid it by mooring at the modern Marina Palmizana on the little island of Sv. Klement. The connection to Hvar can be made via shuttle boat or dinghy. It's delightfully quite and the marina that is designed like a botanical garden is very beautiful.
On the island of Brac the Goldon Horn above all is very tempting and favourite spot during many Yacht Charter Croatia cruises. It is supposed to be the most beautiful beach in the whole of Croatia. The touristy centre of Brac is close by, in Bol. But there is more this island has to offer. It is famous for its white chalkstone and impressive vineyards. The chalkstone wasn't only used for building palaces, temples and amphitheatres in Split and Trogir but also in building the Hofburg Imperial Palace in Vienna and the White House in Washington.
Yacht charters Croatia – Southern Dalmatia – Elaphit Archipelago -Makarska Riviera
In the South of Split on the way to Dubrovnik, there are several yacht harbours with yacht charter Dalmatia bases at the Makarska Riviera in Baska Voda  or other small ports. The most important Yacht Charter Croatia base in Southern Dalmatia is Dubrovnik – many Yacht Charter Croatia cruises are going oneway from there to the Split area or from there towards South.
All the way down in the south of Dalmatia off Dubrovnik, you will find the Archipelago of Elaphit with 15 inhabited and uninhabited island in total (this is counting the very small ones as well). Yacht Charter Southern Dalmatia crews that have strolled through the picturesque lanes in the old town of Dubrovnik, can now discover gardens and parks belonging to mansions from the 16th century, as well as olive groves, citrus trees, palm trees and monasteries and fortifications. About a thousand people live on the islands of Lopud, Kolocep and Sipan. With its big harbour and space enough for Yacht Charter Croatia tourists, Lopud used to be a base for seafarers and residence for many wealthy merchants with their feudal holiday homes.
Beautiful mansions in huge parks can also be found on Sipan, only a cat's throw from Lopud. There is a new landing stage for sailing yachts in the harbour of Sudurat. There are plenty of idyllic bays, lots of them suitable for anchoring and spending the night during the Yacht Charter Croatia cruise. Make sure to steer towards the nearby main land when sailing in the Archipelago of Elaphit. The dreamlike bay of Kobas forms a Fjord with the peninsula of Peljesac. For those who want of a longer Yacht Charter Croatia cruise: the island of Mljet with its massive woods of Aleppo pines and a national park is located just a few miles off the Archipelago of Elaphit to the West.


Charter yachts Croatia:
There are some yacht charter fleets with sailboats, catamarans, power boats and motor yachts for bareboat charters in Croatia that are not listed in our Yachtfinder – please ask for offers. And of course we will be glad to send you offers for the most beautiful luxury charter yachts with crew in this area as well.
Luxury yacht charters Croatia:
Croatia is a very popular destination for charter holidays on board of luxury yachts, super yachts, gulets, motorsailers or crewed catamarans. Here you can find more information about luxury yacht charters. We would will be glad to  organize your luxury yacht charter in the Thailand – please ask for offers!
Yacht Charter Croatia – General Information:
Language: Croatian – locally Italian (Istria)
Capital: Zagreb
Currency: Croatian Kuna (HRK)
Time: MEZ – UTC/GMT +1 – in Summer MESZ (Sommerzeit) – UTC / GMT +2
Electricity: 220 V
The most important airports for Yacht Charter Croatia:
– Dubrovnik – DBV
– Pula – PUY
– Rijeka – RJK
– Split – SPU
– Zadar – ZAD
– Zagreb – ZAG
– Brač / Bol – BWK
Here you find a list of waypoints for middle yacht charter in Dalmatia to download:
Waypoints Croatia / Dalmatia.
Provisioning for yacht charters in Croatia

For all harbous and marinas, you can pre-order the provisioning for your charter holiday online – Provisioning Croatia
Yacht Charter Croatia – weather forecast
The times for marine weather forecast in the Yacht Charter regions of Croatia changed in 2010: The coastal radio stations Rijeka, Split and Dubrovnik send now all at 5.45, 12.45 and 19.45 h UTC / GMT. The broadcast times in Central European Summer Time: 7.45, 14.45 and 21.45 h. The VHF channels remain unchanged: Rijeka sends on the channels 04, 20.24 and 81, Split on 07, 21, 23, 28 and 81, Dubrovnik on 04, 07 and 85.