Yacht Charter Canary Islands
A stomping ground for the sailing scene are the Canary islands, always getting more popular among Yacht Charter sailors, especially in November, when hundreds of yachts gather here to set off for the joint Atlantic crossing towards St. Lucia in the Atlantic race for cruisers. The seven islands off the African coast used to be an importnat stopover for seafarers and conquerors of the likes of Columbus and Sir Francis Drake.
Still today the Yacht Charter region Canary Islands aren't really typical sailing water for charter yachts. But more and more Yacht Charter crews are looking forward to challenging sailing. The yacht charter area Canary Islands appeals also by the completely different landscapes on the islands, which thus also offer plenty of variety on shore. Dunes, mountain tours, city-bustle of Las Palmas or the picturesque port of Puerto Mogan on Gran Canaria, the snow-capped Mount Teide, the picturesque Puerto de la Cruz, tourist shopping areas or sleepy port towns such as Los Abrigos in Tenerife Tenerife, Lava Tour on the Volcano and fascinating buildings of Manrique in Lanzarote, desert landscapes and endless beaches of Fuerteventura and idyllic nature of La Gomera, sailing and whale-watching between the islands – there is enough variety!
The right planning of the long distances and the handling of the yacht in usually strong winds requires a lot of sailing expertise from Yacht Charter crews sailing the Canary Islands. An incredibly strong funnel effect is generated between the islands, which causes the winds to blow with about 15 knots more than on the open sea. That in turn causes high swells. Anchor bays are scarce in the whole of the region.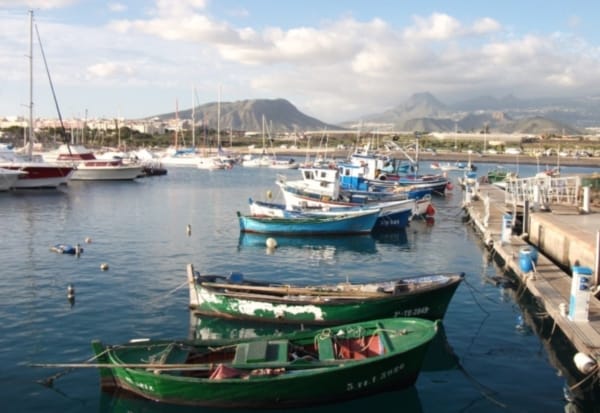 Those Yacht Charter Canary islands crews who do not want to sail the large distances can easily enjoy a Yacht Charter cruise around around and near one of the big islands alone: There a several rather new Yacht Charter harbours, so for the evening stop, sailors a have more options than some years ago.
Having said that, the Yacht Charter crew can leave the galley cold after a day of sailing, since there is a great choice of restaurants in every harbour. Here on the Canary Islands they are good and well priced, offering lots of yummy fish dishes, steaks for acceptable prices and the speciality, which will soon become a favourite dish for some of you "Papas arrugadas" – potatoes cooked with sea salt and served with spicy Mojo-sauce. Since the Canary Islands still enjoy a special status within the European Union, shopaholics will feel at home here as well.
Yacht charter Canary Islands crews find Yacht Charter bases with sailing yachts for example in Las Palmas on the island of Gran Canaria, in Tenerife in Santa Cruz de Tenerife in the Puerto Deportivo Radazul near Santa Cruz, in San Miguel and in the Marina del Sur – Las Galletas in the Southeast of Tenerife, in Lanzrote in  Arrecife  or in the Marina Rubicon .
Yacht charters Canary Islands: Nautical literature: Canary Islands Cruising Guide – Jimmy Cornell