Yacht Charter Solta / Rogac – Split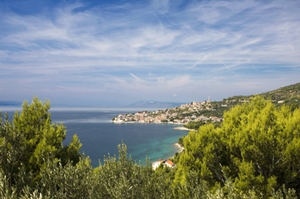 Only nine miles from the yacht charter split bases on the mainland (Split and Marina Kastela), separated by the Split channel, there is a yacht charter Dalmatia base in Rogac on the island of Solta. Rogac is easily accessible several times a day by speedboat and ferry. On Solta island, Rogac offers as the main port the best connection to the Croatian mainland. Grohote, the oldest and largest city of the island, lies just around the corner.
Three bays are located around the harbor: In the Bay of Rogac, there are the ferry terminal and the yacht charter base of Rogac. The bay of Kasjun in the south west is well protected by a wooded peninsula. The Banje bay has a pebbled beach, inviting yacht charter Solta crews for a swim in the clear water.
Yacht Charter Split crews can explore on Solta lovely old villages like Stomorska, the oldest seaside resort from the 17th century, or Maslinica in the west, with a small archipelago of seven islands off the sheltered bay of Sesul.
The charter yacht marina in Rogac Solta offers free WiFi, free parking, a petrol station and above all, a beautiful environment surrounded by nature.
Charter yachts in Solta / Rogac: For Dalmatia Yacht Charter crews, there is a modern fleet of sailing yachts in Solta / Rogac near Split available: Beneteau Cyclades, Oceanis and a catamaran Lagoon. One-way charters from Solta / Rogac are available on request!