Yacht Charter Rogoznica – Marina Frapa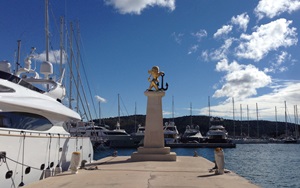 For yacht charter cruises from Rogoznica, the modern Marina Frapa offers the perfect surrounding as port of embarkation, lying between Split and Sibenik. The private Marina Frapa likes to present itself with elegant design – inviting to spend the evenings there at the Captains club, sushi and champagne bars and excellent restaurants.
The people of the small village Rogoznica, lying on an island which is connected by a dam with the coast, used to live as fishermen. Nowadays tourism is much more important.
Yachtcharter crews can explore the Kornati archipelago from Rogoznica towards the north – or sail to the south to the beautiful towns of Trogir or Split and explore the islands of Hvar, Hvis or Brac.
For yacht charters from Rogoznica, there are sailing yachts and catamarans available as well as luxury yachts.