Yacht Charter Baska Voda / Krvavica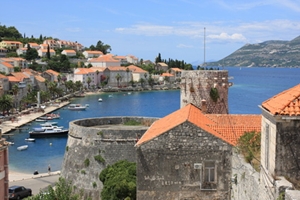 Baska Voda, home to several yacht charter companies, is a popular holiday resort in central Dalmatia, between the towns Makarska and Brela. The starting point for yacht charter cruises Baska Voda on the Makarska Riviera is situated at the foot of St. Ilia's and the Biokovo mountains with the Biokovonatural park. The yacht charter bases Baska Voda in the marina are located directly in the town. The town of Makarska is about nine kilometers s away, the modern Marina Krvavica, popular destination for yacht charter Baska Voda crews, is five kilometer further south. The nearest international airport Split is about 50 kilometers away.
On the Makarska Riviera, yacht charter Baska Voda crews are mainly attracted by beautiful sand and gravel beaches and the crystal clear waters of the Adriatic Sea. In recent years, several new ports were built so that yacht charter Baska Voda crews find anywhere an excellent infrastructure. Popular destinations for yacht charter Baska Voda cruises include the islands of Hvar, Brac and Korcula, as well as South Dalmatia with Dubrovnik and the Elaphite archipelago.
The yacht charter area Makarska Riviera, blessed by nature with beautiful beaches, was inhabited in ancient times. Near the town, yacht charter Baska Voda crews can enjoy visiting churches and monasteries, or simply walk in the shady pine forests. A trip to the smaller places Bast, topic or Bratus makes sense.