Yacht charters Murter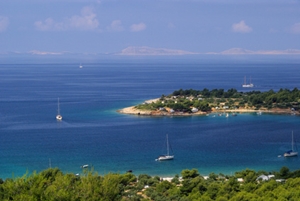 The island of Murter (with the main village with the same name) is located in the northwest of the Sibenik archipelago in central Dalmatia and is a very popular starting point for yacht charter Kornati cruises. Yacht Charter Murter crews reach their charter yachts in Murter via Zadar airport or by car: The island is connected to the mainland at town of Tisno in the southeast with a bridge that leads over the only 20-meter-wide sea channel.
Murter was already inhabited by the Illyrians – the cities of Murter, Jezera and Veliko Selo were mentioned already in the 13th Century. The old town of Murter is situated near the hill Raduc, with 125 meters the highest peak on the island. The town stretches to the bays of Hramina, well protected toward the wind from all directions, and of Slanica with one of the most beautiful beaches of the Riviera of Sibenik. On Murter, there are several sandy bays along with many pebble beaches.
Many of the islands of the Kornati archipelago are owned by the inhabitants of Murter: farmers who grew olives and wine purchased in the 19 Century many islands and waterfront properties, many worked then as a fisherman and boat builder. Nowadays yacht charters in the Kornati archipelago is the most important economy on Murter Island. Yacht Charter Murter crews can discover a several old churches, but also enjoy a lot of original nature.
The most yacht charter Murter bases are situated in Marina Hramina, more marinas are located in Betina and Jezera (ACI Marina). In Tisno, yacht charter Dalmatia crews moore quite in the center of the village to stroll through town or visit a cafe. The yacht charter Murter yacht harbour Marina Hramina offers all service facilities. The center and the village square of Murter with restaurants, cafes and shops, is not far away from the yacht charter bases.
Charter yachts in Murter: For yacht charter Kornati crews, there is a large fleet of sailing yachts in Murter available, including Bavaria yachts, sailing yachts from Elan, Beneteau First and Lagoon catamarans.