Yacht Charter New Caledonia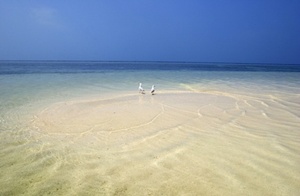 Yacht Charter sailors that have been here before rave of New Caledonia with it's untouched nature in the possibly largest and most beautiful coral lagoon of the world. The archipelago in the Pacific off the Australian north coast geographically is part of Melanesia and belongs to France politically. Grand Terre is the largest island, in addition there are the Loyalty Islands, the Ile de Pins, the Chesterfield Islands and the Belep Islands. The New Caledonian Barrier Reef is the second largest in the world. Apart from beaches, bays and coconut trees there's lots to explore for nature lovers among the Yacht Charter New Caledonia crews: lagoons, jungle, creeks, rivers, waterfalls, the endemic plant and wild life world, the exciting underwater world with 2000 fish species, humpback whales, underwater trails or a nature preserve, the islet of Tenia, home to countless dolphins – many a region is preserved as a national or maritime park. Although the nature is protected, Yacht Charter tourism is well developed and organised, picturesque anchor bays and modern marinas await Yacht Charter New Caledonia crews.
In Noumea, a small Yacht Charter New Caledonia fleet is available with several catamarans and some monohulls There are three yacht harbours in the main town of Noumea alone, big enough for super yachts: the Cercle Nautique, Port Moselle and Port du Sud. They all lie close to the market, shops and restaurants. Best means for provisioning are also offered by the Capitainerie de Pandop in Koumac, the Marina de Hienghène, the Marina de Wé on Lifou and the Marina in Touho.
Apart from nature, there is plenty of culture and culinary delights in New Caledonia to be discovered by Yacht Charter New Caledonia crews – both evolved through a mixture of Kanak, Oceanian, Asian and French influences. There still remains lots to discover ranging from an old temple, to an Lighthouse designed by Eiffel on the islet of Amédée to French monuments – and the New Caledonians are hospitable and open minded and look forward to Yacht Charter New Caledonia tourists.
The best time for travelling into this Tropical island world is November till May – prevailing wind is the southeast trade wind, which blows weaker in the mornings but occasionally brisks up to 30 knots in the afternoon.
Yacht Charter New Caledonia – General Information:
Language: French – Polynesian, Melanesian and English spoken as well
Capital: Noumea
Currency: CFP-Franc (XPF)
Time: UTC / GMT + 11 hours, MEZ + 10 hours
Electricity: 220 V / 50 kHz
Important airport for Yacht Charter in New Caledonia:
– Noumea – NOU
Yacht charter offers New Caledonia
There are important yacht charter fleets with sailboats and catamarans for bareboat charters in New Caledonia that are not listed in our Yachtfinder – please ask for offers. And of course we will be glad to send you offers for the most beautiful luxury charter yachts with crew in this area as well.