Yacht charter Azores / Faial – Horta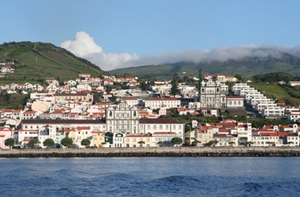 The yacht charter Azores destination Faial Island is the cultural and political center of the Azores. The nearly pentagonal island is called as well "Blue Island" (Ilha Azul), named after the abundance of blue hydrangeas that bloom in the summer. The landscape of Faial is dominated by the big Caldeira crater. Volcanic eruptions have shaped the image of the island – for example, since an earthquake in the fifties of the 20th Century, a lighthouse is covered nearly completely except its top floor which is still to be seen. The sparsely populated highlands and the north are very green. The coastline is predominantly characterized by steep cliffs and coves. The best beaches are located near Horta in the southwest of Faial. This area is also home to most of the 15,000 residents of the island.
Faial island's capital, Horta, is the most beautiful place in the Azores, with classic architecture and interesting history. The transatlantic telegraph cable made Horta temporarily into a global communications center, seaplanes landen in the bay for a stopover during their transatlantic flights, and during World War II, the port was an important base for Allied warships.
Today, the lively town offers tourists, passengers of big cruising ships and yacht charter Horta crews international flair, lots of shops, and charming cafes and restaurants.
For Atlantic sailors, Horta is an important meeting point. Crews from around the globe meet here – preferably at the legendary Peter's Cafe Sport in port. On the pier, countless sailors left their marks with graffiti and signatures.
The marina in Horta is the largest of the Azores and offers yacht charter Azores crews all the essential services.
Charter yachts Azores – Faial – Horta:
For yacht charter Azores crews, there are modern sailing yachts in the marina of Horta on Faial available, mainly Dufour models.