Yacht Charter Aegean / Dodekanes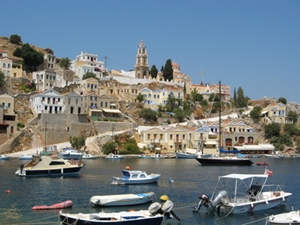 Ambitious yachtsmen feel comfortable sailing the 12 islands of the Dedokanes Archipelago situated in the Eastern part of the Ionian Sea. Beginners should stay clear of the strong-wind season, which lasts from July till September. There are charter bases for example on Kos, namely the modern and state of the art Kos Island Marina, on Samos situated in the Northern part or Rhodes in the Southern part of the Dedokanes Archipelago.
Charter crews can chose between sailing the Dedokanes Archipelago with its islands Symi, Karpathos, Kalymnos, Patmos, Leros, Tilos, Astypalea, Nisyros, Kassos and Halkos and the islands of Kos, Rhodes and Samos (which officially is counted to the Southern Sporades). Also the route to Turkey is open. A venture that in former times was only possible with considerable difficulties, the cruise from Greece towards the Turkish coast to Bodrum, Marmaris or into the Golf of Gokova, is now noticeably easier.
However the Greek islands in the Dedokanes Archipelago have plenty to offer. Symi with its strung-out natural harbor and the view onto the little town, when you run into port is an absolute must. The home of the Colossus of Rhodes has plenty of history to offer even sans this wonder of the ancient world. Kos on the other hand boasts lively harbors and long beaches. All in all everybody sailing these waters will get their money's worth be it tranquility in isolated bays or turbulent holiday highlife they are after.