Yacht Charter Lavrion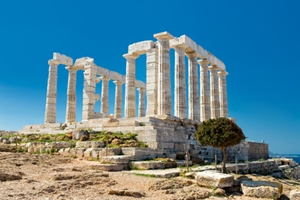 Lavrion, near Kalamaki and Piraeus, is the third major Yacht Charter marina of Athens, located about 35 kilometers southeast of the airport, on the coast of the peninsula of Attica. The transfer time to the Yacht Charter base is not much longer than from the airport to Kalamaki.
Lavrion is a good port of departure for Yacht Charter cruises, not only for sailing the Saronic Gulf and the Cyclades. Also, the northern Sporades, Skiathos or the island of Evia are well within reach from the Yacht Charter bases in Lavrion.
The Marina Lavrion is large and fairly quiet. Yacht Charter crews should not miss a trip to Cape Sounion, it is only 5 kilometres away. The sunset is famous throughout the world!