Yacht Charter Ibiza / San Antonio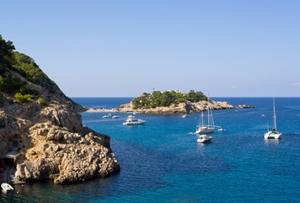 Puerto de San Antonio on the West coast of Ibiza is the closest port away from the Spanish mainland. There are anchorages in the outer harbour as well, in case you don't want to moor in the marina. The fish market for a scrumptious meal on board is directly at the harbour.
The Cala Bossa, only 3 miles West of San Antonio, is beautifully lined with pine trees and lends itself for a refreshing stop for swimming.