Yacht Charter Lefkas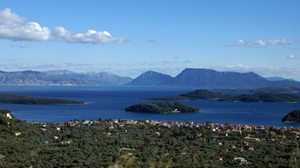 The Yacht Charter destination Lefkas (Lefkada) is a popular starting point for Yacht Charter cruises in the family-friendly Yacht Charter area Ionian Sea, including one-way Yacht Charter trips to Corfu or through the Gulf of Corinth. Lefkas, also called Lefkada, is connected to the mainland by a bridge – many Yacht Charter crews travel to the nearest airport Preveza there. The bridge of the channel is opened for #keyword#} sailors each hour. The islands of Ithaca, the island of Odysseus, and Kefalonia are located nearby.
The Yacht Charter destination Lefkas is not big, less than 300 square kilometers,there is no genuine mass tourism. The central spots are the capital of Lefkas, located at the bridge, and Nidri. The island is beautiful with unspoiled nature: green mountains and valleys with olive trees, cypress and pine forests, miles of sandy beaches, deep fjords as in Nidri on the east and the white chalk cliffs of Porto Katsiki in the South – much easier to get there for Yacht Charter crews as for "land tourists".
The relatively new, large Yacht Charter marina with several Yacht Charter companies is located near the ancient city port of Lefkas. Both the marina and the lively town offer perfect infrastructure for Yacht Charter crews.
The Yacht Charter port of Nidri is the ferry port, and also provides everything Yacht Charter crews need. Good anchorages for the Yacht Charter cruise around Lefkas are Vlycho south of Nidri and the natural harbor of Sivota.