Yacht Charter Sardinia – Portisco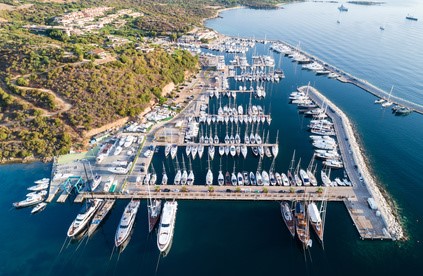 The yacht charter destination Portisco on the northeast coast of Sardinia is for yacht charter Sardinia crews a popular starting point for cruises along the Costa Smeralda, the Emerald Coast, and to the La Maddalena archipelago. Portisco, an idyllic resort on the Gulf of Cugnana, lies between the fashionable marinas of Porto Cervo and Porto Rotondo. In contrast to these very popular meeting places for high society, Portisco is a bit quieter. Yacht Charter Sardinia Portisco crews get there from Olbia airport – this is about 30 kilometers away, the city of Olbia about 20 kilometers.
Yacht charter Portisco crews can expect a great area with a typical Mediterranean climate, numerous bays and islands in a beautiful location – and shore excursions in an exciting environment: between stylish and exclusive flair with designer shops and fine restaurants of the Costa Smeralda, scenic back country or culture, history and city life in the lively town of Olbia. An absolute dream for all yacht charter Portisco crews are trips to the "Maddalena Archipelago," the environmentally-protected national park with crystal clear emerald green water and sometimes even glittery pink sand beaches.
Charter yachts Portisco – luxury yachts and bareboat yachts
In Portisco, there is a large charter fleet of sailing yachts and catamarans of all sizes available for sailing Sardinia. And of course there are many luxury yachts, motor yachts and crewed catamarans for charter as well. Charter the best yacht for your sailing trip in Sardinia from Portisco online or just ask for offers!
Yacht charters Portisco – the yacht harbour Marina di Portisco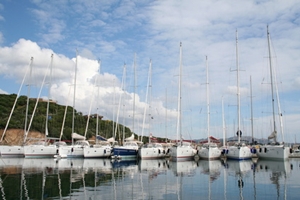 The Marina di Portisco with the widest range of charter yachts in Sardinia is a modern marina with nearly 600 berths (including super yachts up to 90 meters) and offers yacht charter Portisco crews all amenities. Even with strong Mistral winds, which can occur in this region, the three-arm breakwater offers Yacht Charter Sardinia crews good protection. The Marina di Portisco has nice cafes, bars and restaurants, supermarket, hotel and gas station. There is even a helicopter landing pad near it. Because of the clear and clean waters, this Yacht Charters Sardinia port has got with the European Blue Flag award.
Yacht charters Portisco – Cala dei Sardi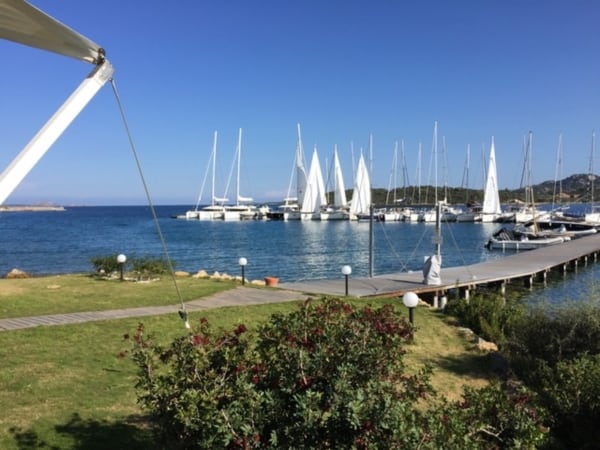 Only some hundred meters south from the big Marina of Portisco, there is a beautiful small marina called Cala dei Sardi. It is the home port of a big yacht charter Sardinia base with a large fleet of sailing yachts and catamarans – and a great place to start a relaxed charter holiday. While you wait for your boat to be ready you can relax on the terrasses, go swimming, enjoy a drink in the small café – the area is more like a beach club.