Yacht Charter Elba – Portoferraio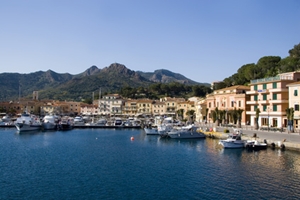 The yacht charter destination Portoferraio is situated on the north side of the island of Elba and is its capital. Portoferraio – translated the name means "iron port", due to the iron mining at Elba – is an attractive starting port for yacht charter Elba crews who are planning a sailing trip from Portoferraio in the Tuscan Archipelago or to the popular cruising grounds of Corsica and Sardinia.
Around the port of Portoferraio there is the lively and picturesque Old Town. With stunning views and a fun atmosphere that has the typical attraction of a small Italian town. Elba lives of the tourists, so there is no lack of boutiques, bars, restaurants and charming cafes. Portoferraio is full of sights and rich history. The present town was founded by Cosimo I de 'Medici as "Cosmopolis". The imposing fortifications were built from 1548, including the perimeter wall with the three bastions Falcone, Stella and the Linguella tower. From here yacht charter Elba crews have a great view of the bay, the harbor and the entire landscape in the area. Also, the Napoleon Museum is worth visiting – the Villa dei Mulini, where the French emperor lived in exile in 1814 and the first months of 1815.
Yacht charters Portoferraio – the yacht harbour
About 15 minutes walk away from the ferry docks yacht charter Elba crews find the marina of Portoferraio with several yacht charter bases. The U-shaped old docks, the Darsena Mediceo lies in a natural bay and is well protected against all winds. Permanent parking spaces for yacht charter Portoferraio crews arriving by car are availalbe on a fenced parking lot near the marina. All docks are illuminated at night and every berth has water and electricity connections. More services for yacht charter Portoferraio crews include sanitary facilities, a gas station (petrol and diesel), ironing and laundry service, restaurant, and WiFi, car and motorbike rental and taxi services. Supplies for the yacht charter cruise in the archipelago of Tuscany can be purchased or ordered at the nearby discount stores.
Charter yachts Portoferraio: In Portoferraio, there is a charter fleet of sailing yachts from 32 to 49 feet from all major manufacturers available for yacht charter Elba crews: including Bavaria, Jeanneau Sun Odyssey, and sailing catamarans from Lagoon. Charter the best yacht for your sailing holidays from Elba – Portoferraio online or just ask for offers.
Important for yacht charter Elba crews:
On yachts staying at anchor in the bay of Portoferraio, one crew member has always to remain aboard as anchor watch when the rest of the crew goes ashore. The regulation was introduced for safety reasons. The authorities carry out checks: charter captains who leave their sailing yachts in Elba alone have to face high fines.