Sailing Events Mallorca & Ibiza
For all kind of groups – companies or family & friends – the best way to enjoy a day in Mallorca or Ibiza, is to spend it together is a boat excursion. There is no better way for colleagues to learn to know each other better, for companies to invite their best clients to an incentive tour they will enjoy and not forget, for families & friends to celebrate special occasions like birthsdays, wedding days, bachelor parties etc.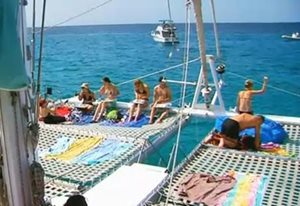 For events on charter yachts in the Balearic Islands, usually the capacity of sailing or motor yachts is limited to a maximimum of 12 guests… so for larger groups, excursion catamarans or big classic sailing ships with licences for these events are recommended. Catamaran excursions and sailing tours can be organized for example from Palma de Mallorca, Puerto de Pollensa, Puerto de Alcudia, Cala Ratjada and Port Andratx, and of course in Ibiza.
With some of the excursion boats, groups have the choice between a full day of sailing, or just a half day in the morning or the afternoon. Some offer as well sunset cruises.
For smaller groups, there are some sailing yachts available for day charters as well as a range of motor yachts or real luxury yachts.
Delicious catering will of course be provided – Spanish tapas, fresh made barbecues, usually there is a wide selections – as well as watertoys like snorkel equipment, kayaks etc.. and if you need a DJ or have special requests, please ask.
For team building, some days together on a sailing yacht – alone on one yacht with smaller groups, with several yachts forming a small flotilla for bigger groups – are perfect to develop a real team spirit. Those flotillas can be easily organised inn the out season – just ask for offers.
And if you need a programme for another day ashore – like Jeeps Safaris, Tapas Tours. Wine Tasting or anything else – we can offer a full range of options together with experienced partner companies.
Here you can find some yachts and boats for your sailing event or incentive in Mallorca or Ibiza – do not hesitate to ask for offers for these and much more boats!!