Sailing round Mauritius
Mauritius isn't discovered actually still as charter area at all. Now you can cruise around the whole island siailing a catamaran with crew – and continue your holiday afterwards with staying in a hotel or a luxurious holidays villa on request. During the cruise there are many opportunities to get to know the island from inside at guided excursions.
The programme – left up to changes by wind and weather:
After the embarkation in Grand Baie ( about an hour transfer time of the airport) a short cruise leads to the Ilot Gabriel. Now you can relax after the long flight – swimming, snorkeling and enjoying the barbecue. On the next day, the tour goes on to the Ile aux Cerfs, which is well known for her beautiful beaches. Sailing time: about five hours. On the third sailday you can explore the GRSE waterfalls – and take a walk later on on the island Ile aux Aigrettes: This island's nature is protected being under conservation- you find a lot of endemic plants and specieses of animal. The day finishes at Mahebourg, not far away from this paradise.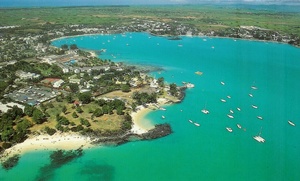 The most thrilling sailing tour waits a day later: the cruise of the southeast of Mauritius to the southwest, along the southern coast which is a bit rougher. Along the coastline there are no coral reefs or lagoons which otherwise mark the shoreline – so the catamaran sails directly to Riviere Noire (Black River). Sailing time: approx. eight hours. Here a bus tour is offered to Grand Bassin and Chamarell in the next morning. With several temples and a sacred lake Grand Bassin is a place of worship of the Hindus — in Chamarell the earth shows seven different colours so Coloured Earth is regarded as nature phenomenon. After the bus tour a one-hour cruise leads to Tamarin. The next highlight: Dolphin Watching in front of the Ilot Benitiers. Then, after four hours of sailing, the island's capital port Louis awaits for the guests with interesting waterfront, shops and lively market . The market is a paradise for those who like to cook: it smells of vast amounts of most various spices. On the seventh day the catamaran sails back to the Grand Baie with stop in Balaclave. If you stay ashore in Mauritius one week more, barbecues, meetings with native families or excursions to sugar plantations or rum factories could be organized.
We offer several types of catamarans with crew. Prices for exclusive charter and a holiday ashore in a hotel or villa will be provided on request. Please do not hesitate to contact us.