Yacht Charter Tortola – Sailing & Motor Yachts, Catamarans, Luxury Yachts
Biggest and at the same time main island is Tortola, you'll find lots of Yacht Charter bases in Road Town, the main town, situated in the vast nature harbour – Road Harbour, extending far into land or in one of the adjacent marinas. Road Town is one of the typical Caribbean little towns – with colourful houses, lots of boutiques, cafes and restaurants, the Virgin Island Folk museum, a large botanical garden in the centre and outstanding means of provisioning for sailors. You'll find that most general stores will deliver goods directly to the charter yacht.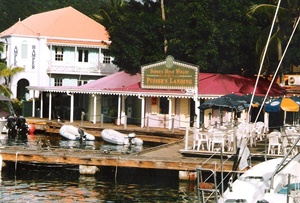 Most Yacht Charter people will make the acquaintance with an extremely important institution shortly after leaving port: the national drink called Painkiller. It consists of Rum, pineapple juice, orange juice, coconut milk and nutmeg – it comes in different intensities, 4 to 5 tend to help the most. The Pusser's is a real institution too, a combination of elegant shop for nautical supplies and bar-come-restaurant. On the British Virgin Islands, you'll find Pusser's in Road Town, Soper's Hole (Pusser's Landing), on the small island of Marina Cay and in Leverick Bay. Of course Pusser's Original Navy Rum (it's name derives from the purser on board) is on sale here as well. Sage Mountain National Park, Mount Healthy National Park with remnants of an old sugar cane plantation, the North Shell Museum, the Callwood Rum Distillery and several old forts are particularly inviting for a land excursion.