Yacht Charter Athens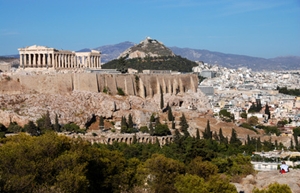 The Yacht Charter bases in and near Athens – primarily Kalamaki, Lavrion and Piraeus – are the starting points for cruises in the Saronic Gulf and the Cyclades. The city itself beckons with numerous attractions, the evidence of several millennia of Greek and world history and vibrant life. Before or after the trip it is absolutely worth while to pay a visit to the Acropolis, the Parthenon, the Agora, with the temples of Athene and Hephaestus, the largest temple of the Greek mainland Olympeion or a trip by funicular to the mountain Lycavittos, located in the city: From here you have a wonderful view over the city.
The modern Athens is equally noteworthy: as the fish and meat market, Syntagma Square, Omonia Square and the Plaka, the oldest neighborhood near the Acropolis, with its numerous restaurants, taverns and shops in many small alleys.