The Palms, The World and more gigantic projects make Dubai boom – but not only the real estate market is growing rapidly, the Yachting scene and the charter sector get more and more interesting as well.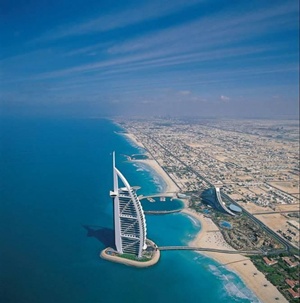 Until now, Dubai like the whole of the Near East played almost no role at all as a charter beat – a few years ago all sailing activities extended as far as traditional regattas with classical Dhows, at one point Topcats raced their world Championship off the long beach with the view onto the Burj Al Arab Hotel with its sail-silhouette, sheiks and other well-heeled inhabitants did occasionally take their motor yachts out for a cruise and jollyboats await customers in front of several hotels. But the scene starts to change radically. Since the Alinghi-crew started training for the America's cup in Dubai and pro Russel Coutts started sailing here with his newly designed racing yachts RC 44, since modern Carbon-ships are being built in Dubai, charter people start to get interested in the sailing waters of the United Arab Emirates. All the more, because the coastline, that used to be characterised mainly by industrial ports, the mouths of creeks and an endless sand beach, has visually become so much more exciting thanks to the artificial Palm Islands and The World.
Dubai is particularly interesting in the European off-season with its meteorological conditions that in winter can be compared to the European summer. New marinas are under way, among others in Jumeirah and near the new Jebel airport, which is still under construction. There may well be some other small charter bases on the new Palm Islands at some point. A trip could take you to Abu Dhabi or into the neighbouring Sharjah Emirate. But watch out: the nautical border to Iran in the Persian Gulf should not be crossed.
Shore-leaves are surely never going to be boring as well – with shopping in the souks and malls, some downhill skiing in the new skiing hall, desert tours, Arabian nights in the desert or a boat excursion on Dubai Creek.
Until now there are relatively few charter boats in Dubai, so far mainly motor yachts but there will be more in the near future.
We are happy to make some offers on sailing and motor yachts in Dubai.